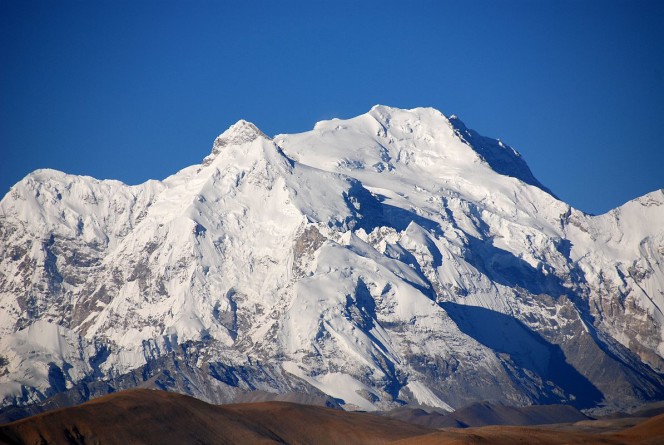 Having a successful summit attempt on above 8000'er mountains in incredible Himalaya is more than just high adventure peak climbing. And when it comes to expedition above 8000m, Shishapangma offers you the grand opportunity to conquer the summit of 14th highest peak of the world. Shishapangma stands at the elevation of 8,013 m (26,289 ft) that lies just north to the famous Langtang Himal and is only 8000m peak located that totally within Tibet. Shishapangma is the youngest among the 8000m peaks was unknown for the rest of the world till 1978 as the Tibet was opened to the Western summiteers only in 1978 by Chinese government.
Shishapangma literally means "crest above the grassy plains in local Tibetan dialect and this peak is considered as the holy peak among the local community. Shishapangma is relatively considered as an easy 8000m peak to climb because of its non-technical route and high chance of summit success. It was on 2nd May 1964 when Mt. Shishapangma was first climbed by a Chinese expedition group led by Shu Zing via the Northern Route. This peak perhaps could be best preparation for Everest. The expense and grandeur of Tibetan plateau and the mesmerizing views from the summit of Shishapangma has always been a great attraction to the mountain climbers and is continue increasing.
Day 01: Arrival at Kathmandu and transfer to hotel
Day 02: In Kathmandu half day sightseeing tour.
Day 03: In Kathmandu preparation for expedition.
Day 04: Drive to Zangmu 2,240 m 06 hrs journey.
Day 05: Drive to Nyalam 3,660m 04 hrs journey.
Day 06: Rest day at Nyalam for acclimatization.
Day 07: Drive to Shishapangma base camp 4, 900 m 04 hrs.
Day 08-09: At the base camp for acclimatization and preaprtion for the climb.
Day 10: Trek to Advance Base Camp (ABC) at 5,800m – 04 hrs.
Day 11-19: Shishapangma Climbing preparation and acclimatization.
Day 20- 35: Shishapangma Climbing period.
Day 36: Trek to Base Camp.
Day 37: Clean up the Base Camp
Day 38: Drive to Zhangmu 05 hrs journey.
Day 39: Drive to Kathmandu and transfer to hotel.
Day 40: Free day in Kathmandu for individual activities.
Day 41: Final international departure:
Day 01: Arrival at Kathmandu and transfer to hotel.
On arrival in Kathmandu, you are warmly greeted by our Sherpa Mountaineering Expeditions staff at Tribhuvan International Airport (TIA). SME representatives will assist then transfer to respective hotels.
Day 02: In Kathmandu sightseeing tour.
In Kathmandu sightseeing program includes visit of world heritage sites the sacred Hindu temple of Pashupati Nath, the world biggest Stuppa; Boudhhanath, known as little Tibet, Swoyambhunath Stupa (monkey temple) located on a hill side one of the oldest religious spot of more than 2,500 years old and historical Kathmandu Durbar Square with unique architectural temple, and the virgin Kumari known as Living Goddess in Basantapur atf central Kathmandu. Kathmandu is not only naturally beautiful but it also holds the beauty of incredible Newar people culture with ancient architectures.
Day 03: Preparation day for expedition.
On this day you can buy your essential equipments, gears, harness, crampons, ice axe with leash, webbing, cord, trekking poles, sleeping bag, headwear, footwear and other stuffs. Our representative will work on making your necessary permits and papers for the expeditions. There will be a special meeting in the evening regarding pre-expeditions discussion with all the expedition staffs.
Day 04: Drive to Zangmu 2,240 m 06 hrs journey.
Morning starts this great journey by driving to Zangmu, the ride to Zangmu offers scenic landscapes and magnificent views of high Himalayan ranges. A 05 hours drive via Kodari (Nepal -Tibet Border) bring to Zangmu for overnight stop at this frontier town.
Day 05: Drive to Nyalam 3,660 m 04 hrs ride.
Leaving Zhangmu drive to Nyalam crossing bridges through the gorge with beautiful forests of rhododendron, pines and oaks trees and waterfalls after leaving the lush vegetations entering to Nyalam town the start and end of Tibetan plateau is surrounded by high hills and waterfalls. Nyalam literately means 'Hells Pass' or gateway to hell' because of the road to Nyalam used to be like the path to hell before the road was built. The journey of 35 k.m. just takes about 04 hours to reach with winding narrow highway to Nyalam.
Day 06: Rest day for acclimatization.
Nyalam is an ideal place for acclimatization at an altitude of 3,660 meters. Spending an extra day in Nyalam helps to acclimatize and avoid the risk of Acute Mountain Sickness (AMS). With time for short hikes.
Day 07: Drive to Shishapangma Base Camp 4,900 m-04 hrs journey.
Start your day waking up with the stunning sunrise of early morning which is completely mesmerizing. You can have enough time to capture this precious sunrise on your camera as many times as you like if the weather is perfect. After a hearty breakfast, we drive to Shishapangma base camp which is positioned at 4,900 m from Nyalam where we can do our final preparation and make plans for expedition. We can use our rest of the time exploring the surroundings.
Day 08-09: At Base Camp.
A necessary rest day and preparation for the big climb and sorting out equipments and re-packing the climbing gears on this day
Day 10: Trek to Advance Base Camp (ABC) at 5,800m -04 hrs.
On leaving base camp climb towards Advance Base Camp with stunning views of the parallel mountains that straddles Nepal-Tibet border the walk is quite strenuous in this high altitude, climbing up towards Advance Base Camp where final preparation will be made with 09 days before setting several camps onwards ABC.
Day 11-19: At Advance Base Camp final preparation and acclimatization.
A perfect weather is needed for a successful summit attempt. So we should wait for the perfect weather or till the weather improves for favorable climbing condition for the summit bids, during these days acclimatize by climbing up and down between base camp and Camp II to avoid the risk of Acute Mountain Sickness (AMS). Our expert guide and leader will teach you some climbing techniques and skills, sharing all his knowledge, if you have any queries and confusion then ask our guide. In case of any problem inform our team so that we can take necessary steps further. Taking rest for few days at ABC and making final preparation for the summit attempt.
Day 20- 35: Shishapangma Climbing period.
Make ascents to the summit when the weather improves into perfect condition for the climb. Therefore sometimes, have to stay at base camp for a good weather condition, prepare physically and mentally and start the climb to camp I and camp II at 6,700 m /21,982 ft and 7,50 0m / 22.4050 ft respectively. The section between Camp I and Camp II is quite challenging needs to fix rope and require putting oxygen mask from Camp I onwards to reach the summit. Spending some moments at the summit enjoying the panoramic view of high Himalaya range and make gentle descend. The summit offers magnificent views of Porong Ri, Phurephu Ri, Langtang Himal and many other peaks of Himalaya. Might face significant challenges like low level of temperature and low atmospheric pressure because of high altitude as descending is more challenging than ascending. Continue descend to the advance base camp. Descending to advance base camp rather than to base can avoiding the risk that occurs from atmospheric pressure.
Day 36: Trek to Base Camp.
Leaving ABC, continue losing altitude and descend to the base camp where camp manager and other members will be there, waiting to celebrate the victory of this successful climb with Sherpa Mountaineering Expeditions veteran and expert guides.
Day 37: Clean up the Base Camp:
Himalaya region has thousands of trekking and mountaineering expeditions every year, resulting piles of unwanted rubbish and trash that still exist in the Himalayan mountains, our true effort to reduce as much pollution around as we do have some responsibility towards mother nature, today clean up the base camp which helps reducing the impacts of global warming. Then pack necessary stuff and prepare for return journey.
Day 38: Drive to Zhangmu 6 hrs journey.
Today, drive back to Nyalam and unto Zangmu from Shishapangma base camp, a few hours of drive with the scenic views of giant Himalaya peaks will lead to the town of Nyalam and continue journey back Zangmu for the last overnight in Tibet.
Day 39: Drive to Kathmandu and transfer to hotel.
After breakfast, with visa formalities at the frontier in Zhangmu immigration, drive back to Nepal side with another visa paper works then a great journey leads back to Kathmandu. The journey to Kathmandu offers the scenic landscapes with magnificent view of high Himalayan ranges. About 05 hrs of drive via Kodari (Nepal -Tibet Border) will bring to Kathmandu.
Day 40: Free day in Kathmandu.
The last day of this great adventure trip with Sherpa Mountaineering Expeditions and in Nepal today catch the last minute souvenir shopping with last night dinner with the group member and staffs.
Day 41: Final departure for home ward bound.
SME office staff assists you with the complimentary transfer to airport for your departure flight to your onward destinations your wonderful moments with us we will treasure it for many years to come.
Cost include:
Arrival and departure, Kathmandu city sightseeing.
5 nights 5 star standard hotels in Kathmandu with bed & breakfast.
Shisapangma climbing permit Fee
Tibet visa fee.
Re-entry for Nepal for Nepal
Each member 3 oxygen bottle and 1 regulator mask and set (2 regulators and mask will be carried extra for safety purpose)
Each climbing Sherpa and climbing leader 2 bottle oxygen and regulator and mask set
Generator or Solar panel at Base Camp for light and devices charging
Sleeping Tent (There will be individual tent at base camp. Above Base camp, two persons will share a single tent.
Lodging and catering service.
All ground transportation.
1 High Altitude Sherpa for each climbing member.
1 IFMGA certified mountain guide in the group as a leader of whole expedition.
Base camp services (heated dining tent, Tables, Chairs, Toilet tent, Kitchen tent and shower tent, store tent, kitchen crew)
Gamow bag (at base camp only),
Oxygen and regulator mask at each camp for medical purposes
Mountain guide and climbing Sherpa, Daily wages, equipment allowance and load ferry and summit bonus
Base camp cook, helper and daily wages and equipment allowance.
Yak charges for carrying gears, food, fuel and equipment from Base camp and back.
Transportation: Kathmandu by Jeep Gablang and return for the members' food and equipment.
Garbage Deposit.
Communication (1 walkie talkie for each member and climbing guide and Sherpa , 2 radio base station at base camp and camp2, internet at base camp
Cost exclude:
International flight to and from Kathmandu
Lunch and dinner in Kathmandu
Laundry, postage, telephone calls and all other items of personal nature.
International departure tax.
Personal Expenses.
Medical and rescue insurance.
Personal Climbing equipment
Bar Bills and beverage
Medicine and first aid expenses
Emergency rescue evacuation if required
Satellite phone in payable basis (per minute $ 5) and
Local mobile phone service