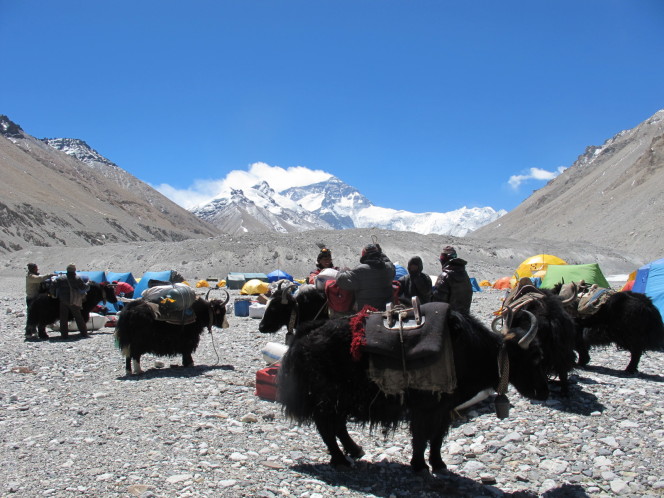 Straddling the border with Nepal on the south side but with the whole of Mt.Everest lies in the world's highest plateau in Tibet, Climbing from the North side or the North Col is twice accessible than the southern side because the climbers do not have to face the notorious Khumbu Ice Falls which time consuming, as the northern side of Mt. Everest is more popular among the mountaineers not because of its world's highest altitude only but also the Himalaya is younger than American and European mountain range the Andes, the Alps and the Rockies. The Everest north ridge expedition is technically more straightforward than the south ridge, at present since last 10 years one can drive all the way to its base camp and can take Yaks all the way to Advance Base Camp or Camp III at 6,500 meters which makes it affordable cost of royalty and other mountaineering services has made the north Col more popular than the south ridge.
The route of Tibet was approached in 1920 A.D and 1924 when George Mallory and his climbing partner Andrew "Sandy" Irvine from the British Mount Everest Expedition group tried the attempt to the summit of Everest for the first time. But the attempts changed into disasters which took his and his climbing partner's life. Before this expedition, Mallory was asked by the reporters that why he wanted to climb Mt. Everest? And he replied, "Because it's there". This quote has been "the most famous mountaineering three words".
Lately on 1953, the summit Mt. Everest was first successfully conquered by the two legends Tenzing Norgey Sherpa from Nepal and Sir Edmund Hillary from New Zealand from the Southern ridge in Nepal. At present, many climbers have successfully conquered the summit from north Col.
The climbing to the summit of Everest is an incredible experience. This lifetime experience climbing formally starts exactly from the Everest base camp which is positioned at the height of 5,200m (17,400ft) times. In the last few years it has received the attention of several commercial expeditions, and with careful planning the same success rates as the south sides are possible. Gaining 8000m is demanding but it is the last 848m that are the most difficult.
The climb takes along the normal route via the north Col 7000m (20,000ft), crossing the base camp and Advance Base Camp (ABC), afterwards crossing two camps, Camp 2 which is 7500m (24,050ft) high and Camp 3 which is 8300m (27,390ft) high to reach the summit of Mt. Everest. After a successful summit attempt we use the same route for couple of days to descend to the North Col, Advance Base Camp and finally to the base camp. Since its first ascent by the Chinese in 1960, the North Ridge has been climbed numerous mountaineers.
Sherpa Mountaineering Pvt. Ltd will run expeditions during both the pre & post monsoon periods. Late May offers the greatest chances of reaching the summit, after acclimatizing in April and the early part of May, a good rest at base camp the warm summer winds, as they have in the past, will often allow those on the summit to shoot photographs without wearing gloves. Only with good preparation and back-up is this possible.
Experience Required….. Applicants for the expedition should have proven high-altitude experience of 6,500m. Plus, and be technically competent mountaineers. Climbers wishing to apply for the expedition should send a resume of their climbing experience and obtain acceptance before sending a deposit. Following acceptance, members can confirm a place with a deposit on a first come, first served basis.
Day 01: Arrival at Kathmandu and transfer to hotel.
Day 02: In Kathmandu sightseeing at places of interest.
Day 03: Preparation day for expedition.
Day 04: Drive to Nylam 3,800m; 06-07 hr journey.
Day 05: At Nylam free day and acclimatization.
Day 06: Drive to Everest Base Camp 5,200m via Rongbuk Monastery 06 hrs.
Day 07-08: At Base Camp for acclimatization and preparation.
Day 09-11: Load the yaks and head to ABC 6,550m.
Day 12-13: At Advance Base Camp final preparation.
Day 14-45: ASCENT OF MOUNT EVEREST.
Day 46: Yaks arrive at ABC to return to base camp.
Day 47-37: Descend to base camp.
Day 48: Pack up base camp.
Day 49: Drive back to Zhangmu 1,700m 06 hrs journey.
Day 50: Free day in Kathmandu, or reach Kathmandu.
Day 41: Free day in Kathmandu.
Day 42: Transfer to airport for international departure.
Day 01: Arrival at Kathmandu and transfer to hotel.
On arrival our staff will meet and transfer to respective hotel and brief you on the trip details with necessary information.
Day 02: In Kathmandu sightseeing at places of interest.
As per the program and if booked earlier for the guided tour our city will pick you from the hotel for sightseeing program which includes world heritage sites visit to holy Hindu temple Pashupati Nath, the world biggest Stupa of Boudhhanath ( Little Tibet), and the oldest Swoyambhunath Stupa (monkey temple) with historical Kathmandu Durbar Square
Day 03: Preparation day for expedition.
On this day buy essential equipments, gears, harness, crampons, ice axe with leash, webbing, cord, trekking poles, sleeping bag, headwear, footwear and other stuffs. Our staff will obtain necessary permits and papers for the expeditions. There will be a special meeting in the evening regarding our pre-expeditions discussion with all our fellow expedition staffs.
Day 04: Drive to Nylam 3,800m. 06-07 hr journey.
Drive to Kodari and across the Friendship Bridge into Tibet. Depending how long the journey takes on the first day might stay in Zhangmu or Nylam. Will spend days acclimatizing along the way to base camp.
Day 05: At Nylam free day and acclimatization.
At Nylam necessary rest day for acclimatisation Nylam the starting and ending point of the plateau where all the tree lines disappears for alpine bush and shrubs only few trees survives like the Poplus and Willow.
One can hike to the 11th Centaury Saint Milereppa Cave and it monastery just beyond the town of Nylam on route Laylung La pass.
Day 06: Drive to Everest Base Camp 5,200m via Rongbuk Monastery 06 hrs.
Arrive at Everest Base camp. On the way passing over the Pang La (16,400 ft/ 5,000 m) which gives great views of the route and the entire North East Face of Everest. The road then descends to the foot of the Rongbuk valley and before it reaches base camp with a stop at the Rongbuk Monastery.
Day 07-08: At Base Camp for acclimatization and preparation.
A necessary rest day for acclimatization; sorting out the load; for packing and each member one yak allocated all the way to Advance Base Camp or Camp III.
Day 09 – 11: Load the Yak on Route to Advance Base Camp 6,500m.
Pack loads for the yaks to go to advanced base camp, which is 22 km up the valley, requiring two days to reach. There are easy walks to do back to the Monastery and towards the mountain, but rest is the key to acclimatization at this point.
There are fantastic views of the North Face of Everest if the clouds permit and then later in the day before reaching intermediate camp. Will make camp by the river at the half way point, then set off early in the morning with the yaks on the second day to allow plenty time in the afternoon to set up a rudimentary camp for the evening, of course to be finished the next day.
Day 12-13: At Advance Base Camp final preparation.
A final preparation for the summit bid all climbing members and Sherpa guides and high altitude cook should be at ABC and last orientation and briefing for the ascent these days are prepared for packing and rest for the climb.
Day 14 – 45: ASCENT OF MOUNT EVEREST.
21 days reserved for the summit bid, from ABC follows the moraine towards the North Col. and cross the glacier easily to its foot.
About 1,000 ft / 300 m of fairly deep snow climbing leads to the Col at 7,066 m. The Col forms a fairly wide ridge which has ample room for tents. This will be Camp I. To the south, the Col rises to become the North Ridge. This is straight-forward snow climbing, eventually steeping into rocky shelves and short buttresses. A second camp will be placed at around 7,700 m.
The route to the North East Ridge leading from the top of the North Ridge to the summit will depend on conditions prevailing at the time. We will either follow the North Ridge in it's entirely to the crest of the North-North-East Ridge or make a rising traverse to the right to reach the ridge at a higher point. Last camp will be placed at around 8,300 m.
The final section of the climb takes in the notorious first and second steps. These are short, but abrupt rises on the North-East Ridge, which will provide testing climbing at extreme altitude! It was on the second step that Mallory and Irvine were last seen before they disappeared in 1924. Once this has been ascended, the ridge leads more easily to the summit.
Day 45: Yaks arrive at ABC to return to base camp.
All load must be carried down at this time, this includes garbage the yak caravan should be at the ABC on this day after a memorable climb prepare for the return journey.
Day 46-47: Descend to base camp.
Start to organize departure from ABC to Everest base camp with all garbage as well the walk towards base camp taking at least two days slowly after being tired from the climb.
Day 48: Pack up base camp.
Prepare every thing for an early departure with cleaning the base camp rubbish and load the gear and equipment in trucks.
Day 49: Drive back to Zhangmu 1,700m 06 hr journey.
Drive as far as possible, if conditions are good and everybody is willing, it is possible in one long day to reach Zhangmu for the overnight stop in the comfort of a hotel.
Day 50: Drive to Kathmandu.
Drive back to Kathmandu after the paper works in the immigration on both side of the border a pleasant drive of five hours reaches to Kathmandu on arrival transfer to respective hotel.
Day 51: Free day in Kathmandu.
Leisure day in Kathmandu after the long expeditions for paperwork or just relax and sort out the gear and equipments.
Free day at leisure a free day in Kathmandu; please inform our staff if you would like to go on another short tour in and around Kathmandu Valley.
Day 52: Transfer to Airport for the International departure.
Today as per your international flight time, keep your confirmed air ticket, and your passport handy. Our staff will take you to the airport for your final departure from this amazing country, Nepal.
Cost include:
5 nights hotel in Kathmandu with bed & breakfast.
Mt. Everest expedition climbing permit and liaison officer an Interpreter.
Chinese Tibet entry visa fee.
Transportation from Kathmandu to Everest base camp and return Kathmandu.
Satellite phone in payable basis (per minute $5).
Generator or Solar panel at Base Camp for light and charging.
Base Camp and advance base camp 1 tent per person and above advance base camp 2 member 1 tents provide North Face or same qualities.
Food and lodge for during drive to Everest base camp
Everest base camp to advance base camp food prepared by cook and kitchen boy. Camp 1, camp 2 and camp 3 high altitude foods prepared and support by Sherpa and Mountain guide.
1 High Altitude Sherpa every 1 member.
1 IFMGA certified mountain guide in the group as a leader.
At base camp and advance base camp Dining tent, Table, Chairs, Toilet tent, Kitchen tent and shower tent store tent.
We provide Gamow bag for 09-12 people only (Life saving device in case of altitude sickness)
Mountain guide high altitude climbing Sherpa daily wedge equipment allowance carry and summit bonus and insurance.
Base camp and advance base camp cook and kitchen boy daily wedge equipment allowance insurance.
Yak / carry food and fuel, members climbing guide Sherpa cook kitchen gears, food and all equipment from EBC to ABC back to EBC.
Transportation Kathmandu to EBC back to Kathmandu provided land cruiser for staff members and equipment.
Garbage Deposit.
Cost Exclude:
Air travel to and from Kathmandu.
Lunch and dinner in Kathmandu.
Laundry, postage, telephone calls and all other items of personal nature.
Entry visa and Re-entry for Nepal.
International departure tax.
Personal Expenses.
Medical and rescue insurance.
Personal Climbing equipment.
Bar Bills and beverage.
Medicine and first aid expenses.
Emergency rescue evacuation if required.