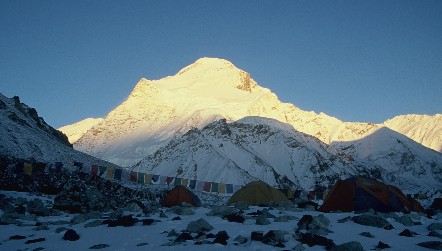 Mt. Cho Oyu 8,201m / 26,906 ft expedition is the perfect expedition for those who are seeking for the climb of the world's highest mountains. Mt. Cho Oyu world's sixth highest peak that stands between Mt. Gaurishankar, Numbur and Mt. Everest range straddles the border with Nepal & Tibet
From Khumbu region of north east Nepal, it lies 20 k.m. west from the Everest between the border of Nepal and China Tibet and perhaps, this expedition is the best preparation for Mt. Everest Expeditions. Mt. Cho Oyu is popular among climbers because of its high altitude and accessible route. This expedition is technically easier than any other 8,000 meters mountains in Himalaya from Tibet side.
Mt. Cho Oyu in Tibetan means "Turquoise Goddess" In 1952 when Cho Oyu was first attempted by an expedition group of Joint Himalayan Committee of Great Britain as a preparation for Mount Everest Expeditions with Eric Shipton as a team leader. But the attempt was unsuccessful the team faced unfavorable weather with avalanche danger at an ice cliff above 6,650 m /21,820 ft. Later in October 19, 1954, Cho Oyu was first climbed by Herbert Tichy, Joseph Jöchler and Sherpa Pasang Dawa Lama of Austrian expedition via the north-west ridge. Since then, many climbers have successfully conquered summit Mt.Cho-Oyu and has become the landmark preparation for the climb of Everest.
Brief Itinerary:
Day 01: Arrival at Kathmandu and transfer to hotel
Day 02: In Kathmandu half day sightseeing tour.
Day 03: In Kathmandu preparation for expedition.
Day 04: Drive to Zangmu 2,240 m 06 hrs journey.
Day 05: Drive to Nyalam 3,660m 04 hrs journey.
Day 06: Rest day at Nyalam for acclimatization.
Day 07: Drive to Old Tingri 4,355 m 05 hrs.
Day 08: In Old Tingri acclimatization and rest day.
Day 09: Drive to Cho Oyu Base Camp 4,900 m 04 hrs ride.
Day 10-12: Mt. Cho 0yu Climbing preparation &
acclimatization:
Day 13- 32: Mount Cho Oyu climbing period.
Day 33: Descend to Advance Base camp.
Day 34: Descend to Base Camp.
Day 35: Clean up the base camp and packing.
Day 36: Drive to Zhangmu 6 hrs journey.
Day 37: Drive to Kathmandu and transfer to hotel.
Day 38: Free day in Kathmandu for individual activities.
Day 39: Final international departure:
Detailed Itinerary:
Day 01: Arrival at Kathmandu and transfer to hotel.
On arrival in Kathmandu, you are warmly greeted by our Sherpa Mountaineering Expeditions staff at Tribhuvan International Airport (TIA). SME representatives will assist then transfer to respective hotels.
Day 02: In Kathmandu sightseeing tour.
In Kathmandu sightseeing program includes visit of world heritage sites the sacred Hindu temple of Pashupati Nath, the world biggest Stuppa; Boudhhanath, known as little Tibet, Swoyambhunath Stupa (monkey temple) located on a hill side one of the oldest religious spot of more than 2,500 years old and historical Kathmandu Durbar Square with unique architectural temple, and the virgin Kumari known as Living Goddess in Basantapur atf central Kathmandu. Kathmandu is not only naturally beautiful but it also holds the beauty of incredible Newar people culture with ancient architectures.
Day 03: Preparation day for expedition.
On this day you can buy your essential equipments, gears, harness, crampons, ice axe with leash, webbing, cord, trekking poles, sleeping bag, headwear, footwear and other stuffs. Our representative will work on making your necessary permits and papers for the expeditions. There will be a special meeting in the evening regarding our pre-expeditions discussion with all our fellow expedition staffs.
Day 04: Drive to Zangmu 2,240 m 06 hrs journey.
Morning starts this great journey by driving to Zangmu, the ride to Zangmu offers scenic landscapes and magnificent views of high Himalayan ranges. A 05 hours drive via Kodari (Nepal -Tibet Border) bring to Zangmu for overnight stop at this frontier town.
Day 05: Drive to Nyalam 3,660 m 04 hrs ride.
Leaving Zhangmu drive to Nyalam crossing bridges through the gorge with beautiful forests of rhododendron, pines and oaks trees and waterfalls after leaving the lush vegetations entering to Nyalam town the start and end of Tibetan plateau is surrounded by high hills and waterfalls. Nyalam literately means 'Hells Pass' or gateway to hell' because of the road to Nyalam used to be like the path to hell before the road was built. The journey of 35 k.m. just takes about 04 hours to reach with winding narrow highway to Nyalam.
Day 06: Rest day for acclimatization.
Nyalam is an ideal place for acclimatization at an altitude of 3,660 meters. Spending an extra day in Nyalam helps to acclimatize and avoid the risk of Acute Mountain Sickness (AMS). With time for short hikes.
Day 07: Drive to Old Tingri 4,355 m 05 hrs.
Morning drive uphill to the highest plateau of the world, also known as the 'Roof of the world' and cross the Lalung La (5,050 m). The journey to Tingri offers magnificent views of high chain of Himalayas of world's last 14th highest Shisapangma, dorji Lakpa, Gurishanker, Melugatse and as far to Langtang range of mountains including Mt. Everest (8,848 m) and Mt. Cho Oyu (8,201m) on route near Old Tingri and, after few hours of drive reaching at Old Tingri for overnight stop.
Day 08: In Old Tingri acclimatization and rest day.
Another rest day allows you to acclimatize well, with time to explore the surrounding area of Old Tingri. Our guide will make sure every member in the group is in perfect condition or not.
Day 09: Drive to Cho Oyu Base Camp 4,900 m 04 hrs ride.
The stunning sunrise of early morning capture this precious sunrise on your camera if the weather is perfect. Then drive to Cho Oyu Base Camp. This charming scenery on-route base camp attracts many visitors, trekkers and mountaineers from all around the globe.
Day 10-12: Mt. Cho Oyu climbing preparation & acclimatization.
These days an acclimatize period and preparation for the climb, our guide or team leader will teach you some climbing techniques and skills, sharing all his climbing knowledge with you all, if you have any queries and confusion then, please do not hesitate to ask your guide. In case of any problem, let our team knows so that they can take necessary steps.
Day 13- 33: Mount Cho Oyu climbing period.
During this climbing period continue climb and descend for few days from base camp to camp III. This helps body to acclimatize in higher altitude. Taking rest for few days then make final preparation for our climb at base camp.
The weather condition around high Himalaya is unpredictable, sometime have to stay at base camp till the bad weather clears, one has to be mentally strong and prepared then start ascending to Advance Base Camp, with three major camps above Advance Base Camp, Camp I, Camp II, & Camp III at the elevation of 6,400 m / 21, 000 ft, 7,010 m / 23, 000 ft and 7,437 m / 24, 400 ft. respectively. There is a difficult section between Camp I and Camp II with Ice cliff where fix ropes is required and towards steep front pointing at Camp II situated on the upper glacier plateau and might need oxygen from Camp II to reach the summit. After spending some moments at the summit enjoying the panoramic view of high Himalayan range and make gentle descend. Descending is more technically and difficult than ascending to the summit especially in Ice cliff. Continue descend to base camp via camp III, camp II and finally tackle Ice cliff and spend the night in tented camp at base camp with celebrating of the victory climb to the summit.
Day 34: Descend to Base Camp.
Leaving ABC, continue losing altitude and descend to the base camp where camp manager and other members will be there, waiting for to celebrate the victory.
Day 35: Clean up the base camp and packing.
Himalaya region has thousands of trekking and mountaineering expeditions every year, resulting piles of unwanted rubbish and trash that still exist in the Himalayan mountains, our true effort to reduce as much pollution around as we do have some responsibility towards mother nature, today clean up the base camp which helps reducing the impacts of global warming. Then pack necessary stuff and prepare for return journey.
Day 36: Drive to Zhangmu 6 hrs journey.
Today, drive back to Nyalam and unto Zangmu from Cho Oyu base camp. A few hours of drive with the scenic views of giant Himalaya peaks will takes to the town of Nyalam and continue journey back Zangmu for the last overnight in Tibet.
Day 37: Drive to Kathmandu and transfer to hotel.
After breakfast, with visa formalities at the frontier in Zhangmu immigration, drive back to Nepal side with another visa paper works then a great journey leads back to Kathmandu. The journey to Kathmandu offers the scenic landscapes with magnificent view of high Himalayan ranges. About 05 hrs of drive via Kodari (Nepal -Tibet Border) will bring to Kathmandu.
Day 38: Free day in Kathmandu.
The last day of this great adventure trip with Sherpa Mountaineering Expeditions and in Nepal today catch the last minute souvenir shopping with last night dinner with the group member and staffs.
Day 39: Final departure for home ward bound.
SME office staff assists you with the complimentary transfer to airport for your departure flight to your onward destinations your wonderful moments with us we will treasure it for many years to come.
Cost Include:
• Arrival and departure, Kathmandu city sightseeing.
• 5 nights 5 star standard hotels in Kathmandu with bed & breakfast.
• Cho – Oyu climbing permit Fee
• Tibet visa fee.
• Re-entry for Nepal for Nepal
• Each member 3 oxygen bottle and 1 regulator mask and set (2 regulators and mask will be carried extra for safety purpose)
• Each climbing Sherpa and climbing leader 2 bottle oxygen and regulator and mask set
• Generator or Solar panel at Base Camp for light and devices charging
• Sleeping Tent (There will be individual tent at base camp. Above Base camp, two persons will share a single tent.
• Lodging and catering service.
• All ground transportation.
• 1 High Altitude Sherpa for each climbing member.
• 1 IFMGA certified mountain guide in the group as a leader of whole expedition.
• Base camp services (heated dining tent, Tables, Chairs, Toilet tent, Kitchen tent and shower tent, store tent, kitchen crew)
• Gamow bag (at base camp only),
• Oxygen and regulator mask at each camp for medical purposes
• Mountain guide and climbing Sherpa, Daily wages, equipment allowance and load ferry and summit bonus
• Base camp cook, helper and daily wages and equipment allowance.
• Yak charges for carrying gears, food, fuel and equipment from Base camp and back.
• Transportation: Kathmandu by Jeep Gablang and return for the members' food and equipment.
• Garbage Deposit.
• Communication (1 walkie talkie for each member and climbing guide and Sherpa , 2 radio base station at base camp and camp2, internet at base camp
Cost Excludes:
• International flight to and from Kathmandu
• Lunch and dinner in Kathmandu
• Laundry, postage, telephone calls and all other items of personal nature.
• International departure tax.
• Personal Expenses.
• Medical and rescue insurance.
• Personal Climbing equipment
• Bar Bills and beverage
• Medicine and first aid expenses
• Emergency rescue evacuation if required
• Satellite phone in payable basis (per minute $ 5) and
• Local mobile phone service