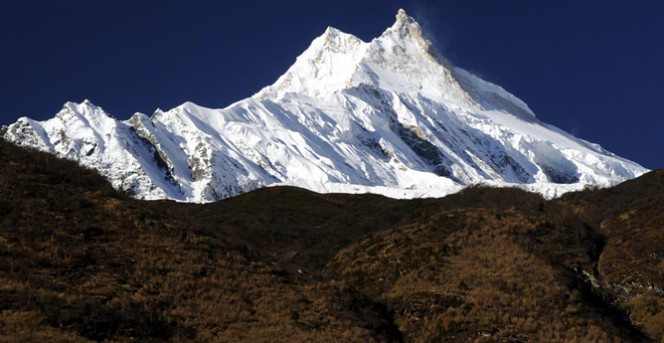 Trip Highlights: "Crossing of high Larkya –La in and around Manaslu the 8th world highest mountain in the shade of staggering highest mountains, in complete wilderness in the tranquility of harsh beautiful nature, in the vicinity of rich old Buddhist culture, religions, traditional villages, high terraced farm fields, in the country of highlanders of Nepal Himalaya"
Manaslu trekking in the remote off beaten trek that takes you to the vicinity of Mt. Manaslu 8,163 m /26, 775 ft locally known as "the mountain of the spirit", this area is just 40 km away toward the eastward direction from the 10th highest peak of the world, Mt. Annapurna. Mt. Manaslu the eighth highest peak in the world its range includes Ngadi Chuli, Himalchuli and Baudhas. This incredible mountain range is surrounded by Manaslu Conservation Area which was established in 1998. Another popular 7000 m peak, Ganesh Himal (Yangra) with its height of 7,422 m / 24,350 ft lies east to Mt. Manaslu which is also situated in this region.  Manaslu Circuit Trekking is considered as one of the most adventurous trekking among other treks in the Himalaya.  Manaslu valley offers amazing ethnic and scenic diversity, providing with primitive mountain views, rich cultural heritage, unbeatable Himalayan scenery, and in rich mountain biological diversity. The Japanese expedition team was first to make successful summit attempt on May 9, 1956 via Bumtang and Buri Gandaki River and crossing over to the Larkya La. Since then, Manaslu valley has attracted thousands of trekkers from all around the globe.  Trekking in Manaslu is one of the most delightful adventures which leads to high Himalayan passes, purely Tibetan origin villages, spectacular snow-peak panoramas and wonderful campsites. This tremendous adventurous trek starts with the scenic drive to Arughat bazaar, a small market hub in Gurkha district of Nepal from where trek to Larkya La Pass starts passing several villages such as Jagat, Samagaon and Dharmashala. The trek accomplishes an altitude of 5,100m at the Larke La pass, connecting the periphery of the legendary Tibetan plateau. Return route on the Annapurna circuit trail from Dharapani, Tal and finally reaching at another village of Jagat for the drive back to Kathmandu via Beshisahar  after a grand and glorious time in the high Himalayan mountains with Sherpa Mountaineering Expeditions.
Day 01:  Arrival at Kathmandu and transfer to hotel.
On arrival in Kathmandu, you are warmly greeted by our Sherpa Mountaineering Expeditions staff at Tribhuvan International Airport (TIA). SME representatives will assist then transfer to respective hotels.
Day 02: In Kathmandu sightseeing tour.
In Kathmandu sightseeing program includes visit of world heritage sites the sacred Hindu temple of Pashupati Nath, the world biggest Stuppa; Boudhhanath, known as little Tibet, Swoyambhunath Stupa (monkey temple) located on a hill side one of the oldest religious spot of more than 2,500 years old and historical Kathmandu Durbar Square with unique architectural temple, and the virgin Kumari known as Living Goddess in Basantapur atf central Kathmandu. Kathmandu is not only naturally beautiful but it also holds the beauty of incredible Newar people culture with ancient architectures.
Day 03:  Drive to Arughat 600m / 1,968 ft  06 hrs journey.
After breakfast begin this great trip taking a drive to Arughat enjoying the great views of Himalayans above the top of green hills. The drive follows the Prithvi Highway till it reaches at Malekhu from here towards north to Dhading Besi, from Dhading Besi, drive via rough road to reach the last section of the day at Arughat a farm village and bazaar for the local hill people.
Day 04: Trek to Soti Khola 730 m  05hrs.
Leaving Arughat, following Buri Gandaki River upstream and walk through dense sal forest, enjoying the magnificent view of Ganesh II at 7,118 m and Ganesh IV 7,104 m. Continue walk along the riverbank passing Arkhet Bazaar, then finally climbing a steep uphill to reach the small settlement of Soti Khola for overnight stop.
Day 05: Trek to Machha khola 930 m  05 hrs.
The trail gently descends and leads along the river bank with several tea shops and encountering a mule caravan on the way to Machhakhola, continue walk using the Nepalese staircase, a traditional steps made of stones slabs trail.
Then it crosses a suspension bridge at Nauli-Khola with a small waterfall to reach Khanigaon. A few hours of trek takes to a suspension bridge of Machhakhola after crossing the bridge climb uphill for less than 20 minutes to reach Machha Khola for overnight stop.
Day 06: Trek to Jagat 1,410 m  06 hrs.
Morning walk following the trail heading upstream to the small village of Khorla Beshi and meets a natural hot spring "Tatopani." trek through village of Dovan and Yaruphant, still following the Buri Gandaki River and then cross a small suspension bridge to reach the reasonable size village of Jagat for the overnight stop.
Day 07:  Trek to Dyang  1,800 m 06 hrs.
After breakfast head to Dyang village following the river, continue walk passing several small villages to reach Sidibas Bazaar. The trail climbs uphill and downhill today, crossing a small suspension bridge from Nagjet and reach the village of Philim with primary school supported by the people of Japan, then walk through golden terrace of wheat, barley and climb a rocky ridge. The trail passes via bamboo forests and climbs uphill to reach the village of Deng for overnight stop.
Day 08: Trek to Ghap 2,160 m 04 hrs.
Leaving Dyang, gently descend and walk along the riverbank and cross the river to reach the Bihi Bazaar, from here onwards close to the Tibetan border. One can observe strong influence of Tibetan culture on the upper Gorkha region. Walk for couple of hours to reach the village of Ghap for the overnight stop.
Day 09:  Trek to Lho 3,180 m / 10,430 ft  06 hrs
Today walk leads to cross the Budhi Gandaki River and then through settlements and terraced fields passing Numrung with magnificent views of Manaslu North Face and other peaks, then passing several small villages like Banjham and Lhi to reach the small settlement of Sho, then trek for couple of hours walking through Shrip to reach Lho Bazaar for overnight stop.
Day 10: Trek to Samagaon 3,530 m / 11,578 ft  06 hrs. 
Start the day waking up with sunrise over the stunning Manaslu peak, with enough time to capture this mesmerizing scenery. After breakfast, head to Samagaon passing through rhododendron forest, Trekking on high altitude notice change in vegetation and landscapes. Walk on the debris of Phungen Glacier for few hours to reach a small Sama village for overnight stop.
Day 11:  In Samagaon – Rest and acclimatization.
This day allows you to acclimatize can use this day to explore the surrounding village and its area. Our guide will make sure every member is in perfect condition or not. If some get symptoms of Acute Mountain Sickness then, he/she will be provided essential medical assistance if necessary.
Day 12: Trek to Samdo 3,860 m / 12,660 ft  05 hrs
Leaving Samagaon, move for Samdo passing Manaslu Glacier, view of Birendra Lake also known as Samagaon Lake on the way to Samdo. On the way meet the traders coming from Tibet and yaks carrying Chinese and Tibetan goods.
Continue trek following the stream and cross to reach the small settlement of Samdo for overnight stop.
Day 13:  Trek to Dharamsala / Larkya phedi 4,460m /14, 628 ft  04 hrs.
A short walk today following the river and cross a stream coming from Gya La, from here there's a path turning right which leads to Tibet, our route then turning right walking straight to reach the small settlement of Larkya Bazaar. A few hours of walk from Larkya bazaar leads to Dharamsala at the bottom of Larkya for the overnight stop.
Day 14:  Cross Larkya la  5,200 m / 17,060 ft) and trek to Bimthang 3,720 m /12, 201 ft  08 hrs of strenuous climb and descend.
Early morning walk follows the trail with steep climb from Dharmashala and passes four frozen lakes continue to the top of Larkya La Pass at 5,200 m.
The high altitude and snowy trail of this pass can create little obstacles while crossing these glacier moraines. But this pass is moderate and adventurous except for the high altitude to cross it. The trail offers magnificent scenery of Larke peak 6,249 m, Manaslu North 7,157 m & Salpudanda Glacier and finally leads to Bhimthang a beautiful valley with grassy meadow lined up with coniferous pine and rhododendron tree forest.
Day 15:  Trek to Gho 2,560m / 8,396 ft  05 hrs.
Leaving Bhimthang follow the trail that first crosses a glacier stream and climbs over the side of the moraine descending on easier path through meadows and pine and rhododendron forest to reach Kharche. A few hours of walk to the southern direction brings at Gho for overnight stop in the middle of enchanting woodland.
Day 16:  Trek to Dharapani  1,860 m  05 hrs.
From today an easy walk to Dharapani onwards following the trail passing village of Tiliche, this region is rich in its old culture. From Tiliche, walk for less than an hour along the mule track through dense forest of fir, pine, oak and maple to reach Dharapani for overnight stop on the trail that joins Annapurna circuit trek.
Day 17: Trek to Jagat 1,290 m 05 hours.
Morning walk follows the trail through several villages Tal Besi and Tal Karte and reach Sattale. The trail descends and crosses the suspension bridge with magnificent views of towering Annapurna mountain ranges towards west, walk  through lush green forest along the river bank of Marshyangdi River and a gentle descend to reach Jagat another village with the same name for the overnight stop and for the drive back to Kathmandu next day.
Day 18: Drive to Kathmandu via Beshisahar  830 m  06 hrs journey.
After a last breakfast of this great rip board on the vehicle for the drive to Kathmandu following the narrow dirt road and Marsyangdi River downstream after few hours' drive passing villages and towns of Syange, Bulbule, Khude and Beshishar a large town and headquarter of Lamjung district, from here another hour reaches to Dumre joining the Pokhara-Kathmandu highway 04 hrs of good interesting drive reaches to Kathmandu concluding this memorable adventure with Sherpa Mountaineering Expeditions on reaching Kathmandu check into the hotel.
Day 19:Â  Free day in Kathmandu at leisure.
The last day of this great adventure trip with Sherpa Mountaineering Expeditions and in Nepal today catch the last minute souvenir shopping with last night dinner with the group member and staffs.
Day 20: Final departure for home ward bound.
SME staff assists you with the complimentary transfer to airport for your departure flight to your onward destinations your wonderful moments with us we will treasure it for many years to come.
Service Included
All the food and accommodation Ktm Trekking,
All the internal transportation.
Service Excluded
International flight ticket.
Personal travel insurance.
Nepali visa fee.
Drinks not included
Personal wearing gear trekking and training and peak climbing soft cell and head lamp.
Tips for guide instructor and cook staff