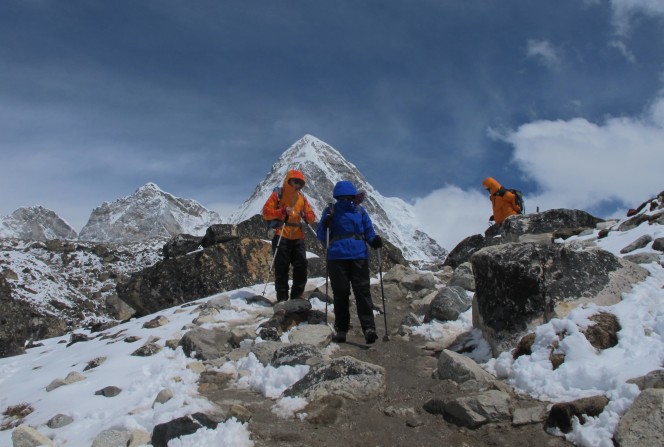 Everest base camp trek is undoubtedly the most popular destination among the trekkers a life time experience to view Mt.Everest which takes you the vicinity of world most famous base camp of Mt. Everest base camp at 5,364 m (17,594 ft).
In 29th May 1953 when the summit of Mt. Everest was first conquered by two legendary late Tenzing Norgey Sherpa from Nepal and Sir Edmund Hillary from New Zealand from the South Col. Since then, Everest region has attracted thousands of trekkers and climbers from all around the globe to be the part of its mesmerizing beauty and harsh landscapes.
Unlike the expeditions and peak climbing, this Everest base camp trek doesn't demand technical skills and previous mountaineering experiences. Anyone with the sound health and good physical condition can accomplish this trek.
This fascinating adventure starts with super scenic flight to Lukla, at Lukla follow the main Everest Base Camp trekking route up to Namche bazaar. Namche is a prosperous trading town and the capital of Khumbu Region with ATMs, Internet, Shops and other facilities. After a proper acclimatization in Namche Bazaar, trek for another two days to reach Dingboche, 4,260 m (13,980 ft) with rest days for another day for further acclimatization, from here journey leads to Everest Base Camp via Gorakshep, the flat field below Kalapatthar, 5,545 m (18,192 ft) and Mt. Pumori. After Everest Base Camp climb of Kalapatthar for awesome views of Mt.Everest at mere distance with other mountain panorama scenery from here heading back to Lukla for the flight to Kathmandu after the most memorable and experience of a life time in the world's highest mountain with Sherpa Mountaineering Expeditions.
Day 01: Arrival at Kathmandu and transfer to hotel.
Day 02: In Kathmandu with sightseeing tour.
Day 03: Fly to Lukla 2,830 m & trek to Phakding 2,640 m 04 hrs.
Day 04: Trek to Namche Bazaar 3,440 m 05 hrs.
Day 05: Rest day at Namche Bazaar for acclimatization and excursion.
Day 06: Trek to Tyangboche 3,867 m 05hrs.
Day 07: Trek to Dingboche 4,260 m 05hrs.
Day 08: Rest day at Dingboche for acclimatization and excursion.
Day 09: Trek to Lobuche 4,930 m 05 hrs.
Day 10: Trek to Gorak Shep 5,170 m (16,961ft); to Everest Base Camp 5,364 m (17,594 ft) and return to Gorak Shep 08 hrs.
Day 11: Hike to Kalapathhar 5,545 m (18,192 ft) to Pheriche 4,240m 05 hrs.
Day 12: Trek to Thayngboche 05 hrs.
Day 13: Trek to Monjo 2,860m 06 hrs.
Day 14: Trek to Lukla 04 hrs.
Day 15: Fly back to Kathmandu and transfer to hotel.
Day 16: In Kathmandu free day.
Day 17: International departure for homeward bound.
Day 01: Arrival at Kathmandu and transfer to hotel.
On arrival in Kathmandu, you are warmly greeted by our Sherpa Mountaineering Expeditions staff at Tribhuvan International Airport (TIA). SME representatives will assist then transfer to respective hotels.
Day 02: In Kathmandu sightseeing tour.
In Kathmandu sightseeing program includes visit of world heritage sites the sacred Hindu temple of Pashupati Nath, the world biggest Stupa Boudhhanath, known as little Tibet, Swoyambhunath Stupa (monkey temple) located on a hill side one of the oldest religious spot of more than 2,500 years old and historical Kathmandu Durbar Square with unique architectural temple, and the virgin Kumari known as Living Goddess in Basantapur at central Kathmandu. Kathmandu is not only naturally beautiful but it also holds the beauty of incredible Newar people culture with ancient architectures.
Day 03: Fly to Lukla 2,886m & trek to Phakding 2,640m 04 hrs.
Moring a super scenic flight of near 35 minutes bring you at Lukla. Lukla airport is also known as Tenzing –Hillary Airport and Luka is assessable either by air or by trek from the old classic route by Jiri or from Arun Valley, from Lukla start our trek to Phakding for overnight stop.
Day 04: Trek to Namche Bazaar 3,440 m 06 hrs.
On this day we walk up to the bank of the Dudh Koshi River and cross the suspension bridge. A few hours of trek will take us to the entrance gate to visit National Park, Monjo. We further walk for few hours to reach Namche. Namche is a prosperous trading town and the capital of the Khumbu Region with many Nepalese officials, ATMs, Internet cafes, shops, restaurants, a police check, post and a bank, a bakery and a colorful market each Friday evening and Saturday. You can buy your essential climbing equipments and other stuffs here in Namche if needed, overnight at Namche Bazaar.
Day 05: Rest at Namche Bazaar for acclimatization and excursion
Namche is the perfect place for the acclimatization. Spending an extra day in Namche helps to acclimatize our body in higher altitude and avoid the risk of Acute Mountain Sickness (AMS). Namche is also a mesmerizing market hub where one can explore its vicinity and make further plans for the trip.
Day 06: Trek to Tyangboche 3,867m 5hrs.
Trek along a gradual trail through conifer and rhododendron forests, somewhat exposed trail with the best views of Ama Dablam. The walk further offers striking views of Mt.Everest, Nuptse, Lhotse, Thamserku and Kwangde peak. The trail climbs uphill passing through the forests to reach Tyangboche. This area is known as the holy land as the head lama (Rinpoche) of the monastery resides here. This is the place, where climbers take blessing from the high lama in order to have best and safe expedition.
Day 07: Trek to Dingboche 4,260m 05 hrs.
After breakfast following the trail that drops to Debuche and crossing suspension bridge on the Imja Khola. Then a gentle climb to reach Pangboche a Sherpa village with several houses made of stones with an old monastery. The trail leads slowly leaving the tree lines behind through exposed landscapes with fantastic views of Mt. Ama Dbalm at close range then reaching at Dingboche for the overnight stop.
Day 08: Rest at Dingboche for acclimatization and excursion.
Another rest day allows you to acclimatize in this high altitude, with time to explore the surrounding area.
Day 09: Trek to Lobuche 4,930 m 05 hrs.
Leaving Dingboche, follow the trail uphill for an hour then a gradual walk all the way to Thugla (Dugla) with fantastic views of Taboche, Cholatse, Lobuche, Pumori, Ama Dablam and as far to Mt. Makalu towards east and tips of Mt. Cho Oyu in the west, the climb up to the terminal debris of Khumbu Glacier, and continues till Lobuche for overnight stop.
Day 10: Trek to Gorak Shep 5,170 m (16,961 ft); to Everest Base Camp 5, 364 m (17,594 ft) and return back to Gorak Shep 07hrs.
The trail today is quite challenging but offers mesmerizing views of Mt. Everest the highest point on this planet at 8,848 meters / 29,028 ft. On reaching at Gorakshep following the moraine and ice path, Gorakshep with 04 lodges the last lodge before Everest Base Camp after break here continue to Everest Base Camp walking along moraine below the Khumbu Icefall to reach Everest Base Camp. After spending some time in base camp, return back to Gorakshep for overnight stop.
Day 11: Hike to Kalapatthar 5,545 m (18,192 ft) and trek to Pheriche 4, 240 m.
Morning start climb to Kalapatthar for the stunning view of Mt. Everest and its surroundings peaks. Kalapatthar is the vantage point for views of the entire south face of Mt. Everest and other high mountains, after spending some moments here a gentle descend to the small settlement of Lobuche and towards Pheriche valley for the overnight stop.
Day 12: Trek to Tengboche 3,867 m (12,660 ft) 05 hrs.
Leaving Pheriche with grand views of Ama Dablam, Nuptse wall, Lhotse, Makalu and Island peak then head towards the famed Tyangboche with its beautiful monastery and striking scenery views, reaching back at lush vegetation and tree lines after being in arid terrain for a week or more, the final leg of this walk leads to a climb for an hour to Thyangboche offering grand views of peaks that surrounds this lovely spot with its monastery.
Day 13: Trek to Monjo 2,880 m via Namche Bazaar 06hrs.
After breakfast a short downhill to Imjatse River after the bridge a steep climb for an hour with gradual winding trail all the way to Namche Bazaar, after Namce its all all downhill to the Dudh Koshi River bed and with few short ups to enter the Sagarmatha National park to exit towards Monjo for the overnight stop in this small nice village.
Day 14: Trek to Lukla 05 hrs.
The last day walk of this great adventure with easy gradual trail through the village of Phakding following the Dudh Koshi, after crossing the bridge at Phakding a nice pleasant trek with few short up and downs to Lukla, on reaching Lukla the last dinner with the trekking staffs and porters.
Day 15: Fly to Kathmandu and transfer to hotel.
The flight time to Kathmandu, are schedule for morning normally, because of the wind in the afternoon, sometime the flight time can be delayed due to bad weather and other reason, depending upon the flight time make way to the terminal for security check, this scenic flight from Lukla takes about 30 minutes to Kathmandu, a panoramic view of the snow capped peaks can be seen during the flight. Arriving at Kathmandu domestic terminal, our staff will receive and transfer you back to Hotel.
Day 16: Free day at leisure.
A free day in Kathmandu, please inform our staff if you would like to go on another short tour in and around Kathmandu Valley.
Day 17: Transfer to airport for international departure.
Today as per your international flight time, keep your confirmed air ticket, and your passport handy. Our staff will take you to the airport for your final departure from this amazing country, Nepal.
Cost include:
Kathmandu Transport (picks up and drop).
Hotel Kathmandu bed and breakfast.
Sight seen in Kathmandu Valley
Breakfast, lunch, dinner, tea, coffee, room Included in Trekking.
National park fee.
TIMS card fee and any trekking permits.
Guide food and daily wage.
Porter's food and daily wage.
Guide and Porters transport flight Ticket.
Guide and Porters Insurance.
Ground Transport for trekking car Jeep and bus etc.
Domestic flight Tickets as per the Itinerary.
Medical Kits.
Cost exclude:
International flight from Kathmandu.
Lunch and dinner in Kathmandu.
Laundry, postage, Telephone calls and other items of personal nature.
Entry visa for Nepal and re-entry visa.
International departure tax.
Medical and rescue insurance.
Bar bills and beverage.
Personal equipment, sleeping bags and down Jackets.
Tips.