Sherpa Mountaineering Pvt. (Ltd.) managed and operated by a native Mr. Lakpa Sherpa and Team of expert staff. This adventure company Registered from Nepal Government. Lakpa an expert professional IFMGA/UIAGM certified mountain guide and mountaineering instructor, with decade of experience established Sherpa Mountaineering company to share his high mountaineering skill and expertise with other interested trekkers, climbers and travelers.
In Nepal there are hundreds of such adventure companies but one can feel the difference in quality service with safety measure only at Sherpa Mountaineering Pvt (Ltd). The best trekking and mountaineering agency managed with teams of experience mountain guides, trekking guides and staffs including high altitude loyal Sherpa climbers and porters.
Beside trekking and mountaineering expeditions programs, provides tailor made adventure holidays to suit all travelers from school-collage, families to corporate and executives group of people.
Sherpa Mountaineering offers outmost quality services in our various adventure sports and leisure, scenic and cultural destinations.
Sherpa Mountaineering has organized many successful trips over 6,000, 7,000 to 8,000 meters mountaineering expedition including Mt. Everest from both side North & South Col.
The Sherpa Mountaineering Pvt. Ltd. An adventure and cultural company organizes various types of holidays from adventure program as Mountaineering Expedition, Trekking Peak climb, Rock climbing, Ice climbing, training in climbing school and to trekkers as well.
With its unique and innovative trekking and expeditions program enables trekkers to enjoy genuine and authentic experiences Nepalese way of life, Sherpa and Nepali culture with warm Himalayan hospitality and natural beauty.
Lakpa Sherpa has spent more than two decades exploring and pioneering new hidden Nepal's Himalayan destination.
All are welcome to share his experience and explore Nepal's in depth with new Himalayan discovery, joining with Sherpa Mountaineering expedition and trekking programs, combination of scenic views, culture.
His expert guiding in expedition and trekking connects you not only in Nepal but in all Himalayan countries Tibet, Bhutan, Northern India (Ladakh-Kashmir-Darjeeling and Sikkim) including Pakistan Karakoram region.
Top most priority of Sherpa Mountaineering is safety of the clients, staff and porters welfare, as our company has excellent reputation in emergency situation in able to connect with helicopter services for evacuation or by any means of transport when required in such emergency.
Sherpa Mountaineering for your next adventure & dream destinations will be the best with memorable and enjoyable holidays with its expert services and excellent guidance.
LAKPA SHERPA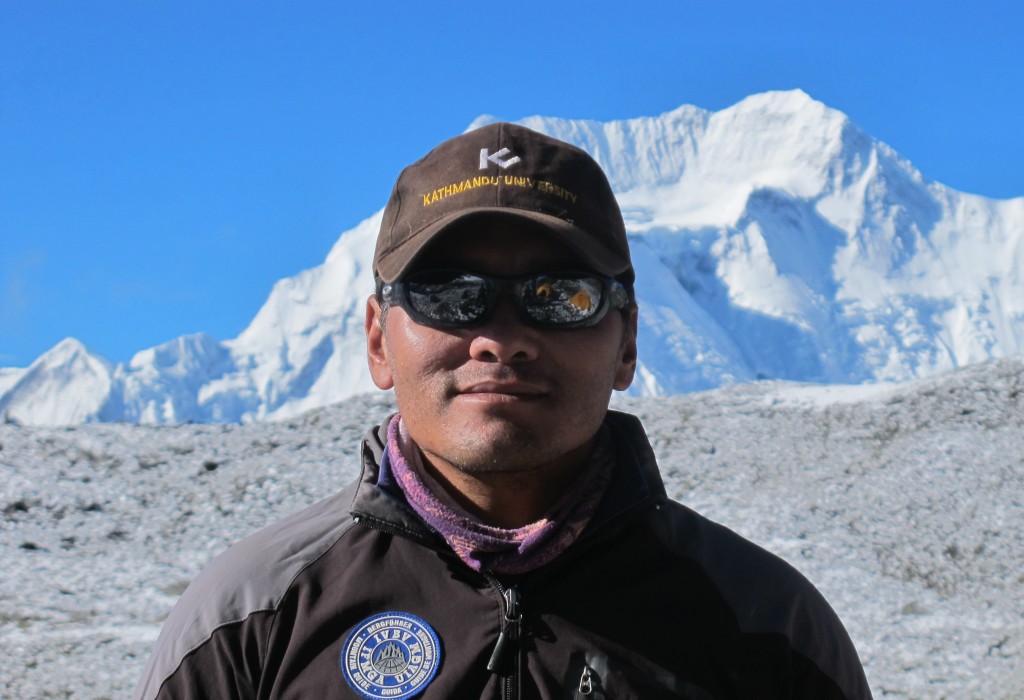 Lakpa Sherpa the Managing Director of Sherpa Mountaineering, Pvt. Ltd. Lakpa has achieved unparalleled success in the expedition guiding industry and is one of the leading IFMGA

certified professional mountain guides. Lak
pa has spent most of his childhood in Okhaldhunga where his prowess and love for mountaineering were developed. In his thirteen years of guiding, he has led 6 expeditions to Mt. Everest, and has guided successfully expeditions Mt. Manaslu, Mt. Makalu, Mt.Cho-Oyu, Amadablam 4 times and many more peaks. In addition to instructing mountaineering courses, Lakpa has recently led successfully expeditions of Indo-Nepal army expeditions. Lakpa joins many of professional expeditions in a support role, overseeing logistics, climber development and ensuring a good time is had by all. He currently lives in Kathmandu where he is giving climbing instructions. Lakpa has well experiences to the Himalayas. Lakpa was awarded recently Kumar Khadga Bikram Shah Adventure 2013 by Nepal Mountaineering Association award for his rescue activities in mountain and mountaineering on the Himalayas. He has got international mountain guide course from ENSA Chamonix France (IFMGA/UIAGM NNMGA certified mountain guide and teacher), he has climbed Mt. Blanc, Chamonix, Mt. Denali in Alaska, USA.
A founder member of Nepal National Mountain guide Association (NNMGA). Lakpa is currently contributing second vice president of Nepal Mountaineering Instructor Association and Nepal Mountaineering Association's as a board member and coordinator of Langtang international mountaineering school construction committee.
About Nepal

Federal Democratic Republic of Nepal (Nepali


Capital: Kathmandu (Nepali:, Nepal Bhasa:) is the capital and the largest city of Nepal. Kathmandu is regarded as 'City of Temples'. There are 7 world heritage sites within 20 KMS radius, listed in UNESCOThe city stands at an elevation of approximately 1400 m and is inhabited by about 700,000 people. Kathmandu is the most developed city in Nepal.
Geography of Nepal: Geography of Nepal is uncommonly diverse. Nepal is of roughly trapezoidal shape, 800 kilometers (500 mi) long and 200 kilometers (125 mi) wide, with an area of 147,181 square kilometers (56,827 sq mi).
Nepal is commonly divided into three physiographic areas: the Mountain, Hill, Siwalik region and Terai Regions. These ecological belts run east-west and are vertically intersected by Nepal's major, north to south flowing river systems.
Neighboring countries:
1)India – East, West and South
2) China – North
Area: 147,181 square kilometres (56,827 sq mi).
Population: The total population of Nepal is 28,676,547. The Nepalese are descendants of three major migrations from India, Tibet, and North Burma and Yunnan via Assam.
People: Nepali people are well-known for their friendliness and hospitality. Among the earliest inhabitants were the Kirat of east mid-region, Newar of the Kathmandu Valley and aboriginal Tharu in the southern Terai region. The ancestors of the Brahman and Chetri caste groups came from India's present Kumao,Garhwal and Kashmir regions, while other ethnic groups trace their origins to North Burma and Yunnan and Tibet, e.g. the Gurung and Magar in the west, Rai and Limbu in the east (from Yunnan and north Burma via Assam), and Sherpa and Bhotia in the north (from Tibet).
In the (Southern Part)Terai, a part of the Ganges Basin with 20% of the land, much of the population is physically and culturally similar to the Indo-Aryans of northern India. Indo-Aryan and East Asian looking mixed people live in the hill region. The mountainous highlands are sparsely populated. Kathmandu Valley, in the middle hill region, constitutes a small fraction of the nation's area but is the most densely populated, with almost 5% of the population.
Language: All the languages spoken in Nepal are national languages. Nepali is the official language of Nepal, with almost 60 percent of the population speaking it. This language, which is believed to be language with the closest derivation from Sanskrit, was originally called Khaskura, but became known as Nepali during the 20th century. Nepal's constitution, however, guarantees that, irrespective of what the official language is, all languages spoken in Nepal can be used for official purposes and documentation.
In the capital Kathmandu, Nepal Bhasa (the Newar language) and Nepali are the most widely used languages.
Religion: The main religion of Nepal is Hinduism. Shiva is regarded as the guardian deity of the country. Nepal is home to the largest Shiva temple in the world, the famous Pashupatinath Temple, where Hindus from all over the world come for pilgrimage. According to mythology, Sita of the epic Ram was born in the Mithila Kingdom of King Janaka Raja. Buddhism was relatively more common among the Newar. Buddha is said to be a descendant of Sage Angirasa in many Buddhist texts. A scholar like Dr. Eitel connects it to the Rishi Gautama. But, differences between Hindus and Buddhists have been in general very subtle and academic in nature due to the intermingling of Hindu and Buddhist beliefs. Both share common temples and worship common deities; many of Nepal's Buddhists could also be regarded as Hindus and vice versa. Gurkhas from Nepal are Hindu. Among other natives of Nepal, those most influenced by Hinduism were the Magar, Sunwar, Limbu and Rai. Hindu influence is less prominent among the Gurung, Bhutia, and Thakali groups, who employ Buddhist monks for their religious ceremonies. Most of the festivals in Nepal are Hindu. The Machendrajatra festival, dedicated to Hindu Shaiva Siddha, is celebrated even by Buddhists and it is the Buddhists' main festival. As it is believed that Ne Muni established Nepal, important priests in Nepal are called "Tirthaguru Nemuni".
Visa and Permit
US, UK, EU, Citizen can Purchase visa on arrival and all other nationality should check their Nepalese Embassy own countries.
Culture: Nepalese culture is diverse, reflecting different ethnic origins of the people. All the communities are rich in cultural diversity; they celebrate many festivals, well known for their music and dance.
FOOD: A typical Nepalese meal is Dal-bhat-tarkari. Other foods like continental, Chinese, Japanese, Mexican, Italian, and Indian etc are also available on local restaurant and hotels.
National Flag: Nepal's flag is the only national flag in the world that is non-quadrilateral in shape, and one of only two non-rectangular flags in use (the other being the flag of the US state of Ohio). According to its official description, the red in the flag stands for victory in war or courage, and is also color of the rhododendron, the national flower of Nepal. Red also stands for aggression. The flag's blue border signifies peace. The curved moon on the flag is a symbol of the peaceful and calm nature of Nepalese, while the sun represents the aggressiveness of Nepalese warriors.
Time: Five Hours and forty-five minutes ahead of Greenwich Mean Time (+5:45 hours GMT).
Climate: Nepal has five climatic zones, broadly corresponding to the altitudes. The tropical and subtropical zones lie below 1,200 metres (3,940 ft), the temperate zone 1,200 to 2,400 metres (3,900–7,875 ft), the cold zone 2,400 to 3,600 metres (7,875–11,800 ft), the subarctic zone 3,600 to 4,400 metres (11,800–14,400 ft), and the Arctic zone above 4,400 metres (14,400 ft).
Seasons: Nepal experiences five seasons: summer, monsoon, autumn, winter and spring. The Himalaya blocks cold winds from Central Asia in the winter and forms the northern limit of the monsoon wind patterns. In a land once thickly forested, deforestation is a major problem in all regions, with resulting erosion and degradation of ecosystems.
Nepal has Highest mountain ground and land of Himalayas range.
Electricity: The electric current is 220 volt AC (50 cycles) throughout the country. Many different types of plugs and sockets are in use. Travelers with electric shavers, hair dryers, tape recorders and other appliances should carry a plug adapter kit. The better hotels will make available 110-volt transformers as well.
Tap water: Tap water is clean but drinking from it directly should be avoided. Mineral water or Bottled water is recommended.
Clothing: Light cotton cloths are appropriate for Summer in Hilly and Tarai region whereas, Full sleeves and warm clothes are advised for Himalayan Region. For winter, full sleeves and warm clothes are advised for even Hilly and Tarai region. Himalayan region during winter demands proper trekking and mountaineering gear.
Weights and measures: The metric system is used throughout Nepal. Numerals on vehicle speedometers, highway markers and speed limits all indicate kilometers.
Business hours: Most commercial concerns in Nepal operate on a six-day week, usually from 9:30 a.m. to 5:30 p.m. Many stores open seven days a week from 10 a.m. to 8 p.m. Government offices are generally open between 10 a.m. and 5 p.m. with 1 p.m. to 2 p.m lunch break, Sunday to Friday except on public holidays. In winter, the Government offices closes 1 hour before i.e. at 4 p.m. Most of the Banks are open Sundays to Fridays from 10 a.m. to 3 p.m. except on public holidays.
Postal Services: We do have postal service for National and International postal. There are other private postal services also. Major hotels provide basic postal services on their premises. General post offices are usually Sun – Thu 10am -5pm, Fri 10am-3pm
Currency Exchange
US Dolores, Pound sterling and Euros can easily change here in Nepal. Visa, Master-Card, David Card, ATm service are available here.
Major Festivals in Nepal
Dashain
Tihar
Loshar
Chhat
Visa and Permit